History and Culture
Rajasthan, the land of romance and valour, is India at its exotic and colourful best. Although the former rulers might not have the same fortunes, but the culture of Rajasthan with its battle-scarred forts, its palaces of amaging luxury and whisical charm is still very much alive.
Geographically the land is very varied. It is diagonally divided into the hilly and rugged south-eastern region and the barren north-western Thar Desert. But there is another Rajasthan – a land of serene lakes, splendid palaecs, forests and marshes where peacocks spread their shimmering plumes and migratory birds come to roost.
Infact, it is full of historic cities, colourful festivals, incredible fortresses awashed with legends and golden legcies to create a postiche of paradise. All awaiting to be rediscovered.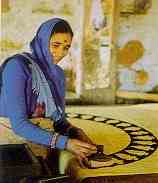 In concept, in color, in workmanship the handicrafts of Rajasthan are in comparable. Be it paintings, furniture, leatherware, pottery, metalcraft or hand printed textiles… each object has a subtle and overpowering appeal. And an ethic aura envelopes even the simplest of forms, making each one truly a collectors' delight. It is, therefore, hardly surprising when people, the world over, call Rajasthan a treasure-trove of handicrafts and a shopper's paradise.
Rajasthan – the land of massive forts, sprawling palaces and intricately carved temples of colorful tribes and brave warriors, of unrivalled form of arts and crafts, unique dance and music traditions, is changing at a rapid pace.
Its vast network of museums in large and small towns, archaeological sites and the recently opened museams and art galleries in the palaces of erstwhile rulers of old states help to preserve this grate heritage for posterity.

People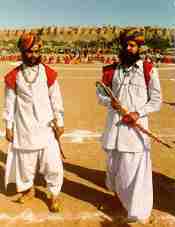 In olden days, the profession of the people decided their caste. This system has now been broken. Today, individuals have the freedom to opt for any profession irrespective of caste. The profession based caste system has now been transformed into birth-based caste system. People of various castes and sub-castes reside in Rajasthan.
The Rajputs, who were the rulers of most of the erstwhile princely states of Rajasthan, form a major group of residents of Rajasthan. Rajputs are generally stoutly built people of good height. The Rajputs generally worshipped the Sun, Shiva, and Vishnu. Vedic religion is still followed by the Rajputs. All the auspicious and inauspicious activities are done in accordance to the Vedic traditions.
The other castes found in Rajasthan are as follows.
Brahmins : Their main occupation was worshipping and performance of religious rites.
Vaishya : These people generally took up business as their source of livelihood. These days they are settled in every nook and corner of the country.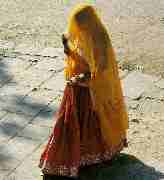 There is a large group of agricultural castes to be found in Rajasthan. These people depend on Agriculture for their livelihood . Some of these castes are Jat, Gurjar, Mali, Kalvi etc.
Irrespective of the birth-based caste system, each individual is free to follow the profession / occupation as per choice, in modern Rajasthan.
Many tribes are also found in different parts of Rajasthan. These tribes have their own social systems and customs. Some of the commonly known tribes are Meena, Bhil, Garasia, Sansi, Kanjar.

Religions
The religion and costumes of the tribes vary. They each have their own religion, costumes and profession.
The religion followed by Rajasthanis, in general, is the Hindu religion. Various other religions are also prevalent in Rajasthan. Some of these religions are:
Jain Religion The Jains follow the teachings of Lord Mahavira, the 24th Tirthankara. Mahavira stressed on the practice of Non-violence.
Sikh Religion Over time, there has been a considerable increase in the number of followers of Sikh religion. The Sikhs believe in formless God and worship their holy book 'Guru Granth Sahib'
Some other major religions that are followed are Buddhism, Islam, Christianity, Parsi religion

Costumes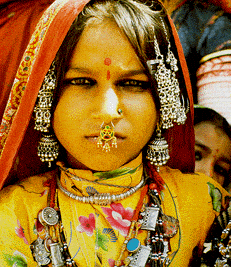 The study of the people of Rajasthan is incomplete without the knowledge of costumes and ornaments. The costumes of the present have the reflections of the costumes of the past.
Both males and females dress in the customary dresses fully influenced by climate, economy, status and the profession, they are engaged. The traditional dresses being Potia, Dhoti, Banda, Angrakhi, Bugatari, Pachewara, Khol, Dhabla, amongst Hindus; and Tilak, Burga, Achkan amongst Muslims which fast changing now with Bushirt, Salwar and Skirts, Saris and Pants accordingly. Turbans the head dress of Rajasthan is a differential pattern of each geographical region designed to its terrain and climatic influence. Clothes express ones personality and tell people which village and caste they belong.
All over Rajasthan the bandhni, tie-dye sari and turban reign supreme.
The common dress of the women constitutes (i) Sari or Odhani, (ii) Kanchli or Kunchuki or Choli (iii) Ghaghra or Ghaghri or Lahanga Besides, the women of high status and ranks wear dupatta and patka.
The use of chappals or sandals or jutees is also common but ladies of high families use coloured sandals studded with gold threads and stars.
Thus, it is concluded that the costumes of women are very colourful and fascinating.

Culture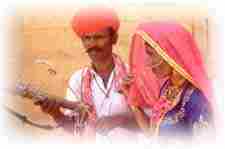 There is a great tradition of popular poetry, which is written under the rival banners of Turru and Kalangi. This is a sung in groups in Jikri, Kanhaiyya or Geet(of the Meenas), Hele-ke-Khyal and Bam Rasiya of Eastern Rajasthan. Group singing of classical bandishes, called the Dangal or taalbandi is also unique to this region. Bhopas are singing priests of various deities or warrior saints. The Bhopas of Mataji wear costumes and play the Mashak.
Dance is often part of the musical tradition and the Theories or Nayaks who are Pabu Bhopas, have a female accompanist; together they recite the phad ( a painted ballad). The phad itself is an elaborately painted work of art and deeply venerated. The Chipas or Joshis are famous phad painters.
The Jogis were well-known for their recitation of the great ballad Nihalde Sultan, Shivji-ka-byawala and songs about Gopi Chand and Bhartrihari. Most of these musical communities live a rural base and function as wandering minstrels traveling from village to village. There are many other artists in different art forms who use music as an accompaniment. The Dholies, also known as Mirasis, Dhadhies, Manganiyarv and Langas are known for their distinct musical styles.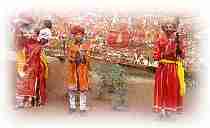 State and royal patronage elevated some of these musicians into Kalawants in the royal courts. Their music had acquired a sophistication that was absent from the rustic tones of the others. The famous Maand of RAjasthan, which is a unique style of singing and a core melody, is their creation. True to its desert environment, the Maand speaks of love, separation, chivalry and revelry. Ballads are an integral part of the professional repertoire and Dhola Maru, Moomal-Mahendra, Doongji-Jawarji, Galaleng, Jala-Boobna, Nagji-Nagwatnti are the most popular ones. The Mahabharat and the Ramayan are popular themes for ballads and the Mirasis and Jogis of Mewat have a delightful folk version of the former, while Hadoti has the Ramayan of Dhai kadi.
Folk opera is another field which has been made immensely popular by the professionals, often in association with amateurs. The Chairawi and Kuchamani Khyals, Maach of Chittaurgarh area, Tamayha of Jaipur and Rammat of Bikaner are famous. The Nautanki and Rasleela are also seen in western Uttar Pradesh, but sadly, the Alibakshi Khyal, the original Bhawai plays (which still have a strong presence in Gujrat) and the musical traditions of the Rasadharies and Rawals are now extinct.
The State Government has provided patronage and opportunities for self employment for folk artists by organizing festivals and cultural programs. It has also aroused and directed the interest of the local people towards our rich cultural heritage.

Ornaments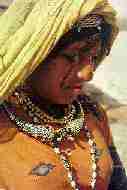 The use of ornaments dates back to the prehistoric times with the passage of time new designs and varieties replace the old ones but still there are ornaments which were used in the past and are still used in the present. Both men and women wear ornaments but with the passage of time, men are giving up their use.
The ornaments of gold and silver are more prevalent in Rajasthan. There are certain ornaments which are used by men.
n daily use the ladies wear normal ornaments of neck, hand, nose and ear but on special occasions and social functions. Women wear all the ornaments of different parts of the body to look beautiful and attractive. For its exquisite designs and delicacy of art Rajasthan Jewelry is a rage not only for ladies of India but also for women of foreign countries.