Folk Music and Dance
The people of Rajasthan live life to the hilt. After hard work in the harsh desert sun and rocky terrain whenever they take time off they let themselves go in gay abandon. There is dancing, singing, drama, devotional music and puppet shows and other community festivities which transform the hardworking Rajasthani into a fun-loving and carefree individual. Each region has its own folk entertainment, the dance styles differ as do the songs. Interestingly enough, even the musical instruments are different.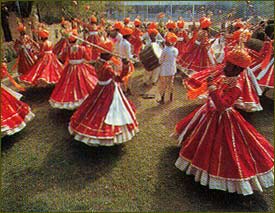 Of considerable significance are the devotional songs and the communities who render these songs. Professional performers like the Bhaats, Dholis, Mirasis, Nats, Bhopas and Bhands are omnipresent across the state. They are patronised by the villagers who participate actively in the shows put up by these travelling entertainers. Some of the better known forms of the entertainment are:
Ghoomar Dance This is basically a community dance for women and performed on the auspicious occasions. Derived from the word ghoomna, piroutte, this is a very simple dance where the ladies move gently, gracefully in circles.
Gair Ghoomar This is one of the many dance-forms of the Bhil tribals. Performed during Holi festival, this is among a few performances where both men and women dance together.
Gair Another Holi dance but performed only by men. This becomes Dandia Gair in Jodhpur and Geendad in Shekhawati.
Chari Dance This is popular in the Kishengarh region and involves dancing with a chari, or pot, on one's head. Alighted lamp is then placed on the pot.
Kachhi Ghodi This is a dance performed on dummy horses. Men in elaborate costumes ride the equally well decorated dummy horses. Holding naked swords, these dancers move rhythmically to the beating of drums and fifes. A singer narrates the exploits of the Bavaria bandits of Shekhawati.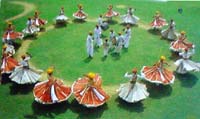 Fire Dance The Jasnathis of Bikaner and Churu are renowned for their tantric powers and this dance is in keeping with their lifestyle. A large ground is prepared with live wood and charcoal where the Jasnathi men and boys jump on to the fire to the accompaniment of drum beats. The music gradually rises in tempo and reaches a crescendo, the dancers seem to be in a trance like state.
Professional singers still sing the haunting ballads of Moomal-Mahendra, Dhola-Maru and other legendary tales of lovers and heroes.
List of singers and performers also includes the Mirasis and Jogis of Mewat, Manganiyars and Langas, Kanjars, Banjaras and Dholies. Performances like the Kuchamani Khayal, Maach, Tamasha, Rammat, Nautanki and Raasleela are no less popular. The musical instruments of Rajasthan are simple but quite unusual. It is a rather difficult task to list all the different types of music, dance and entertainment that can be found in Rajasthan. The range is mind-boggling.